Scientific Name
Preview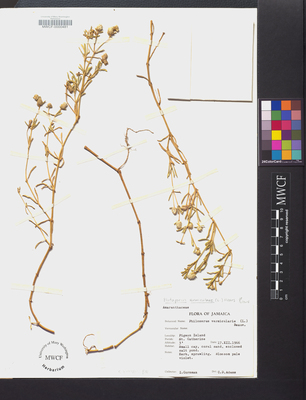 Catalog Number
MWCF-0000481
Specific Epithet
vermiculare
State/Province
Saint Catherine
Municipality
Pigeon Island
Identified By
C.D. Adams; Jill Spear
Date Identified
December 2015
Date Collected
1966-12-17
Occurrence Remarks
Herb, sprawling. Blossom pale voilet.
Habitat
Small coral sands enclosed in salt pond.
Minimum Elevation in Meters
1
Creative Commons License


This work is licensed under a Creative Commons Attribution-Noncommercial 3.0 License
Funding Agency
This material is based upon work supported by the National Science Foundation under Grant Number 1802129. Any opinions, findings, and conclusions or recommendations expressed in this material are those of the author(s) and do not necessarily reflect the views of the National Science Foundation.